The film feels it has come as a timely summary of this course for me (sorry tutors!) It combines the three major themes Utopia / dystopia, community and cyborg!!
Weird Science was probably my first introduction to the cyborg – just re watching it with my kids – think perhaps a bit too young – son 9 saying eurgh rather than wow and more swearing than I remember!
Gary and Wyatt are left in the house for the weekend and after watching Frankenstein decided to make a woman using barbie doll and their computer by connecting to the governments computer "So, what would you little maniacs like to do first?"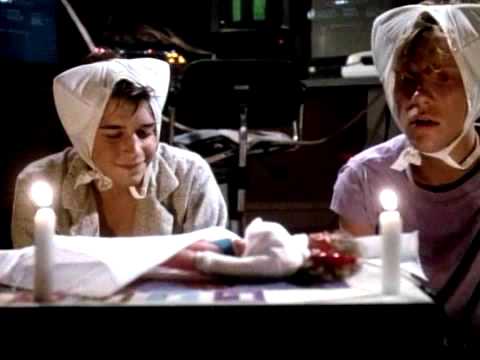 Lisa has superhuman powers, yet the boys cannot take full advantage of the opportunity. I think sometimes we don't take advantage of the full capacity of the technology we have available to us.
The last week of the course included a meeting of minds with the students and tutors on the course. We covered much of the post human – cyborg readings, although I still feel like there is a gap in my knowledge, I think perhaps it is meant to be there, it is not a fully answerable right or wrong topic and much of it is based on the interpretation of the "space between".
It was great to have a feeling of having come full circle and understanding the links between the different blocks of the course and how my blog reports had fed into this. My blog appears to show an ongoing theme throughout of Internet community and the links between people and technology – post human community!
My essay will be around the subject of internet meme's and how people have come together through this medium – I need to build on this but will through further reading
Anyway…………..
It's been great!!!